The Boss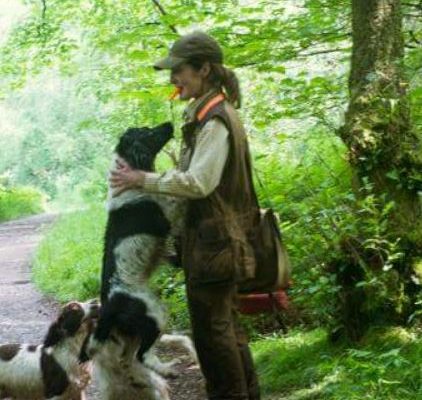 Paula A Parker
Proprietor@Hobbiton Gun Dogs
What people say about us
I would like to thank you Paula for the time you have taken to deal with me, as a first time breeder. From our initial stud dog enquiry you have been extremely knowledgeable and helpful. Our gut instinct was right to use your stud services for our lovely spaniel Lola, and we haven't regretted it at all.

We travelled from Holmfirth to your premises, which are very well equipped and professionally set up. You immediately put me at ease as I was rather nervous. We had a choice of stud dogs – all of which were gorgeous, and had a good bloodline match with Lola.

You gave us lots of information, advice and recommendations in relation to gestation timings, what to look out for when whelping, tail docking, vetting potential new owners – the list goes on………..

Paula was even on hand at 11pm at night when Lola was in labour. You clearly love what you do!

I would highly recommend using Hobbiton Gundogs services to anyone, whether you are using Paula's stud services or buying a puppy from her. She is fab. Thanks again Paula!

LF – Holmfirth
She is fab!
Just a quick note, but a very sincere 'thank you' for your great help with the mating of Skye, my ESS bitch. Your calm, kind but professional approach to all aspects of this mating has been really excellent. Also, the time you spent carefully checking the respective pedigrees to ensure the suitability of your dog Ted and my bitch was very impressive and comforting. That alone convinced me of your credibility and professionalism as a breeder of quality working dogs. Wendy & I (not forgetting Skye) thank you for your help and assistance and we hope that a fine litter of pups will result from the mating.

Tony & Wendy Deeming
Great Stud Service!
"Hello, My name is Eric Darke (Tolkienhurst Smeagol) and I love where I live now.

My first human mum was called Paula. She made sure the people I went to live with were going to look after me properly and give me a nice life.

She asked loads of questions when they phoned her to ask if they could have me, because really she'd like to keep all of the puppies herself, so she wasn't going to let just anyone take me away.

I had a lovely first 8 weeks with my dog mum (Inde) and dad (Ted) and all the other spaniels they live with at Paula's house, but when I got to my new home I knew I'd be happy.

Paula was right to ask those questions and really make sure my new humans were going to keep me happy.

I'm a very intelligent pup, you know. I can do pretty much anything after being shown it a couple of times, especially if there's a bit of sausage on offer.
If you want a clever, mostly well-behaved Springer spaniel like me, contact Paula."
Eric Darke (Tolkienhurst Smeagol)
"So pleased Paula.. Our brilliant pup Jessie is a testament to your efforts in breeding.. We must get up to see you before summer ends xx"
Mandy & Mark of Coventry
We bought Sammy (Beau) from Hobbiton and he is the most amazing dog – a real chip off the old Ted block.

Daisy of Halesowen
What we do
"We make training easy"

Hobbiton Gun Dogs pride ourselves on delivering high quality training. My name is Paula Parker and I have been training and working dogs for 10 years. We are based in Lancashire and therefore take advantage of our beautiful local countryside for many aspects of our dog training. We specialise in gundog training and also work with handlers whose dogs require obedience, socialisation, puppy introduction, and help specific behavioural problems amongst other things.
I have my own pack of working dogs that consists of Springer Spaniels, all of which work with me out in the field and are great shooting companions. We have training grounds available in Lancashire that provide access to facilities and varied ground cover creating a range of training opportunities for all handlers regardless of level or ability. You will be sure to get exactly what you need from our team of experts who will work with you to understand your exact individual requirements. We aim to provide a friendly relaxed environment thus offering a pleasant and positive training experience. We have a passion for dogs and have a firm belief that 'well trained dogs create happy dogs and happy owners'.
Latest Post
Recent confirmation that Bolt, is expected to be the Sire of a litter of 10 puppies. Only very recently, he was Sire to a litter of 11. We also have confirmation, another litter of 8 on the way!